Smartwatch Showdown: Apple Watch (Series 4) vs. Fitbit Versa
In the world of wearable gadgets, smartwatches are all the rage at the moment. The smartwatch market is growing by the day, and new and improved devices are constantly being released. This means that picking the right smartwatch can be a real head-scratcher. To help you choose the right device for your needs, we've compared two of the hottest smartwatches on the market: the Apple Watch Series 4 and Fitbit Versa!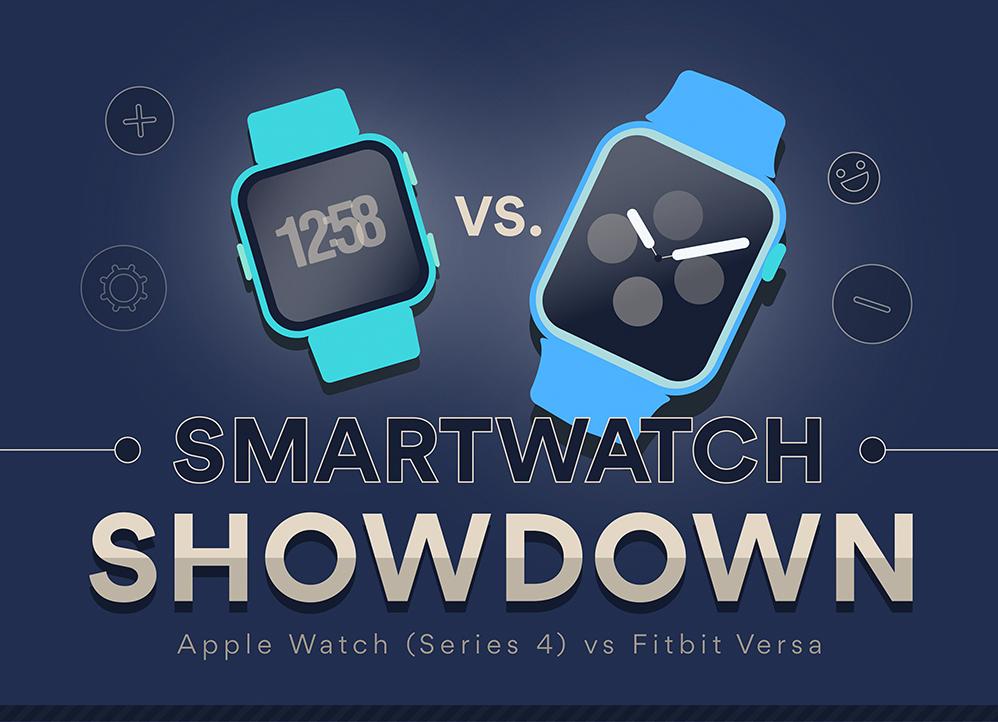 First things first, let's talk about the cost. The Apple Watch Series 4 is a feature-packed, premium smartwatch that retails at £399.00 for a 40mm case size watch and £429.00 for the 44 mm version, while at £169.99 the one-size Fitbit Versa is less than half the cost of its Apple counterpart.
Though Fitbit takes the win when it comes to affordability, it's no coincidence that it costs less than Apple Watch. When you compare Fitbit's build materials and features against Apple's Series 4 smartwatch, the difference in quality is noticeable right away.
In terms of the sales cycle, Apple Watch reigns supreme. While both smartwatches have been designed to last, Apple Watches are much more frequently updated with a new release every year. This means that Apple is constantly improving the performance of its devices with new and advanced features.
Another category where Apple Watch is unbeatable is size and design. The 40mm Apple Watch Series 4 has a screen resolution of 324 x 394 pixels, while the 44mm version boasts an impressive 368 x 448 pixels. Unlike the smaller-sized Fitbit Versa that has three tactile side buttons (one on the left and two on the right side), the Apple Watch only has two buttons on the right side and relies on most of the interaction to be done through its touchscreen.
When it comes to build quality, we have to give it to the Apple Watch once again. Even though both watches are water-resistant up to 50m and can be used in wet conditions with no issues, Apple's high-end Stainless Steel model is in a league of its own. This, however, doesn't mean that the Versa is poorly-built. In fact, Fitbit's smartwatch has an excellent build quality for its price.
If we're talking about Android/iOS compatibility, it comes as no surprise that Fitbit takes the cake on this one.  This health-focused wearable supports use on both of the two major smartwatch operating systems, Android and iOS, while Apple Watch predictably remains locked to iPhones.
But that's not all. The Versa is also a clear winner in the game of battery life. The Fitbit smartwatch has an extremely efficient battery that allows 4+ days of battery life. Apple Watch Series 4, on the other hand, can offer no more than 18 hours of battery life. Keep in mind though that the capabilities of the Versa are much more limited in comparison to Apple's Series 4 watch.
The race is not over as there are quite a few more categories we need to check off before we decide on the winner. If you want to find out which of these devices came on top in the end, don't miss the comprehensive infographic below!

Use the code below to embed this graphic on your website: