20 Cool Things You Can Do With Your Apple Watch – Infographic
With the launch of the cellular-enabled Apple Watch Series 3, this ultra-popular little gadget is now smarter than ever. From tracking your activities to controlling your media, Apple Watch Series 3 is jam-packed with incredible features available right there on your wrist.
Whether you're already the proud owner of the latest Apple Watch or you plan on buying one soon, we know you want to hear all about what this best-selling smartwatch has to offer. Here are just some of the cool things you can do with your Apple Watch…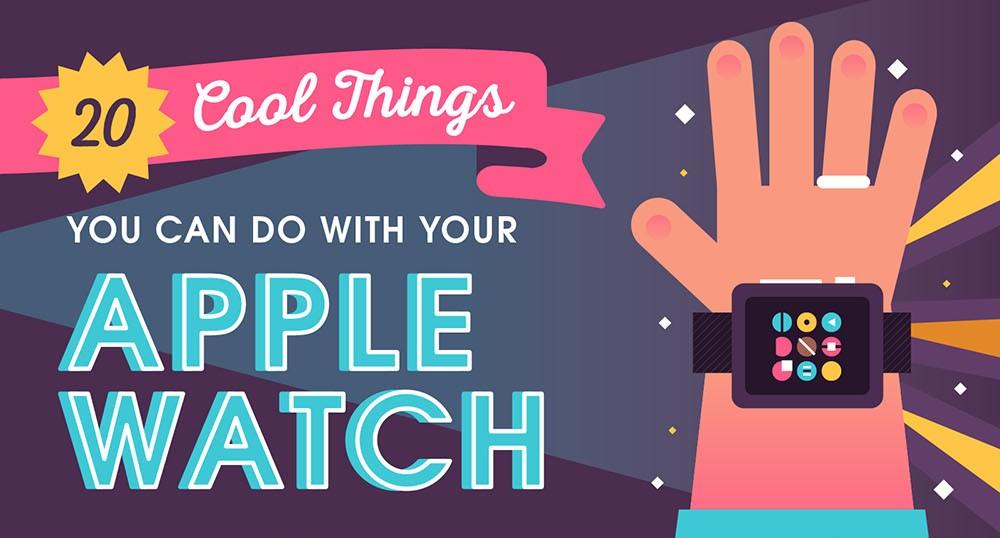 Apple Watch allows you to answer or reject calls even if your iPhone isn't nearby. Your smartwatch will light up whenever someone is trying to call you, and all you need to do is tap the green button to take the call on your watch or transfer it to your iPhone, Bluetooth headset, or a car's speakerphone. Likewise, tapping the red button on your Apple Watch will instantly dismiss the call.
With Apple Watch on your wrist, you will also be able to check all incoming emails and messages no matter where you are. You can pick between marking the messages as read or unread, flagging them as spam, or simply deleting them.
It happens to the best of us: you're in the middle of an important meeting when your phone suddenly starts ringing, and you scramble to get the phone out of your pocket and turn it off while everyone in the room is giving you a disapproving glare. Well, with Apple Watch you won't have to worry about finding yourself in this awkward situation ever again because this smartwatch allows you to silence calls with a simple gesture. All you have to do when you notice an incoming call is cover the screen of your Apple Watch with your palm for three seconds, and the call will be instantly muted!
As useful as your iPhone 8 Plus might be, it's not exactly the most practical of gadgets to take with you on your morning jog. Luckily, Apple Watch Series 3 comes with built-in cellular support, which means you can take calls, listen to music, and use the Internet without having to bring your bulky phone with you.
An app that reminds you to breathe might sound pointless, but if you lead a hectic lifestyle you know just how challenging it can be to take a few minutes during your busy day and simply focus on your breathing. Apple Watch 3 comes with a cool new app called Breathe, which allows you to set up short sessions of deep breathing, lasting between 1 and 5 minutes. The app uses a relaxing voice that will guide you through a series of deep breaths and help you de-stress.
These were just five handy features that you will find on your Apple Watch. To find out what other great things this smartwatch allows you to do, take a look at this comprehensive infographic which highlights 20 cool things you can do with your Apple Watch:

Use the code below to embed this graphic on your website: