Apple's Journey to $1 Trillion – Infographic
In February 2018, Apple made headlines when it broke the record for the biggest quarterly company profit ever with a whopping $20 billion and only a few months after, this tech giant officially became the world's first $1 trillion company!
So how did this startup that at one point almost went bankrupt become the most valuable company in the world? Let's take a trip down memory lane and look and some of the most important milestones of Apple's journey to $1 trillion.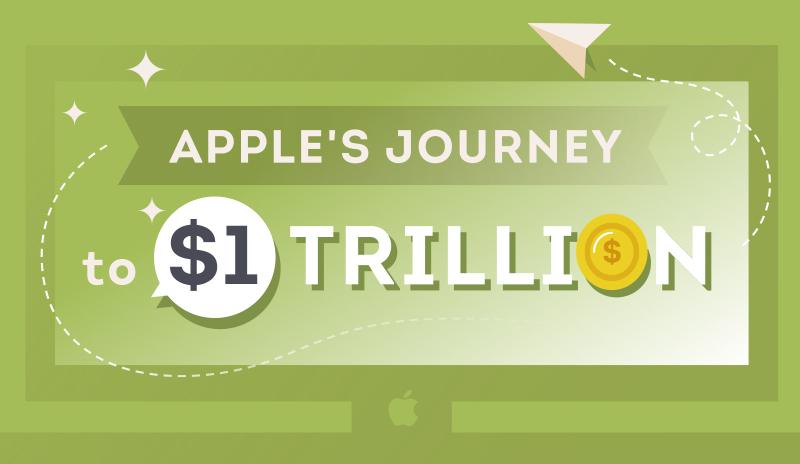 Apple Computers, Inc. was founded on April 1, 1976, by Steve Jobs and Steve Wozniak who had both recently dropped out of college to pursue their entrepreneurship dreams.
Apple's first ever product was the Apple I personal computer, which was followed by Apple II in June 1977. Both computers were designed and hand-built by Wozniak. Apple II was the company's first personal computer branded towards average American households rather than businessmen.
In December 1980, Apple went public by launching the initial public offering (IPO) of its stock – selling 4.6 million shares at $22 per share. It was the biggest tech IPO of its day, instantly creating more millionaires than any company in history. Steve Jobs as the largest shareholder made $217 million, while Wozniak took home $116 million after giving a percentage of his personal pre-IPO stock options to other Apple employees.
On January 19, 1983, Apple introduced the Lisa, a powerful desktop computer with a graphical user interface aimed at individual business users.
In January 1984, the Macintosh computer made its debut with a futuristic commercial that aired during the third quarter of Super Bowl XVIII. The commercial was directed by Ridley Scott and featured an unnamed heroine that represented the coming of the Macintosh as a means of saving humanity from conformity.
1985 was a tough year for Apple. In April, the Lisa was discontinued after a disappointing run with just 100,000 units sold in two years, and on September 16, seven years after he had started the company with Wozniak, Steve Jobs resigned as chairman of Apple. Jobs went on to buy animation studio Pixar for $5 million and also founded NeXT Software, a company that combined powerful hardware with a futuristic design to build computers for business and educational purposes.
In December 1996, Apple purchased Steve Jobs' company NeXT, which not only brought Jobs back to the company he founded but also made NeXT technology the foundation of the Mac OS X operating system.
In September 1997, two months after Gil Amelio was ousted by the board of directors for letting the company's stock hit a 12-year low, Steve Jobs became the interim CEO of Apple. Jobs went on to become permanent CEO in 2000 and held that position until August 2011.
During the 2000s, Apple went through some of the most pivotal events in its history. If you want to learn more about these, check out this comprehensive infographic below that details Apple's journey to $1 trillion.

Use the code below to embed this graphic on your website: